ANNA, the Ammonium Nitrate / Nitric Acid Producers Study Group, brings together global manufacturers of ammonium nitrate and nitric acid in order to facilitate the exchange of ideas on safety issues, maintenance, plant management, and a host of other concerns that over 250 technical and safety experts of AN and NA producers face.

ANNA provides excellent networking opportunities for both producers of ammonium nitrate and nitric acid as well as specialized suppliers that service this industry. A.R. Wilfley & Sons is extremely pleased to announce that we will be exhibiting in the 2013 ANNA Conference in Alicante, Spain, September 22nd through the 27th.
At Wilfley, we are well known in the ANNA community because of our dependable, safe design techniques. Using the principles that we applied during our invention of the Dynamic Expeller Seal, we at Wilfley are always looking to push the bar when it comes to doing everything that we can to satisfy our customers.
Here's some proof:
Wilfley pumps are uniquely suited for this demanding service. The Dynamic Expeller Seal along with a true non-contacting static seal are a proven technology for ammonium nitrate services.
Wilfley has performed multiple run tests to map and better understand the dynamics thermal hot spots.
Wilfley offers multiple locations for thermowell installation to provide for accurate thermal monitoring.
Wilfley offers 304L and 316L Stainless Steels for all wet end metallic parts.
Wilfley offers both Kalrez and Teflon encapsulated O-rings to provide optimum corrosion resistance.
Wilfley offers crust-breaker valves installed on the case drain.
Stainless brackets and bearing frames are available.
Stainless shafts are available.
Wilfley pumps offer multiple washout and drain ports.
Wilfley offers case and seal housing steam jackets.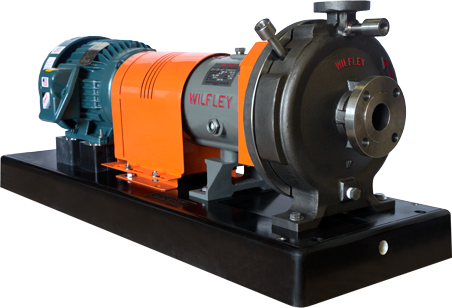 Since Wilfley began offering top of the line centrifugal pump solutions to our customers in 1919, we have continued to grow the legend of our firm by outputting highly modern pump designs. The ANNA community in particular has been greatly pleased with our commitment to safety, which ensures that our customers maintain an efficient and responsible working environment.
Contact your local Wilfley representative for more information.

Download the Ammonium Nitrate Market Bulletin