AVS. ANSI. ASME. In the pump world, these terms refer to one of the most commonly applied pump specifications recognized worldwide. The abbreviations may have evolved over time, but the core features have remained constant: end suction overhung rotor, back pull-out serviceability with footed case and external clearance adjustment.
In 2011, Wilfley launched the heavy duty A9 chemical pump to exceed the requirements of ASME B73.1. In addition to class leading corrosion allowances, stout rotor design and wide range of sealing options, the product range included 24 hydraulic sizes to fulfill the expected coverage range.
However, there has been increased demand for products above and beyond the hydraulic range established by B73.1. Enter the new Frame 5 A9. Available in three sizes based on 19" nominal diameters, the 6×4‑19, 8×6‑19 and 10×8‑19 expand the flow and head capability of the A9 scope while continuing to provide the benefits customers expect from Wilfley.
Coverage
(Hover over or tap on the image to view Frame 5)
The Frame 5 A9 chemical pump can deliver up to an impressive 6,000 USgpm (1,350 m3/hr) and 400 feet (120m).
Robust Shaft Design

The shaft stiffness ratio significantly exceeds PIP requirements, reaching an absolutely astounding value of 14 in-1.
Heavy Duty Construction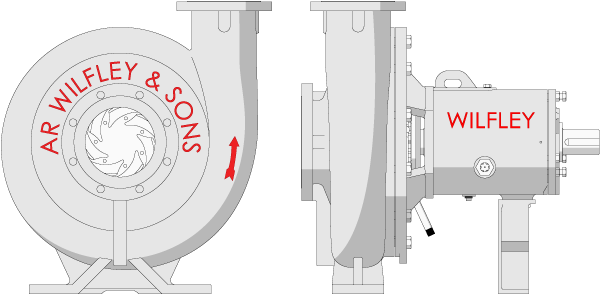 The power capability reaches 525 hp (390 kW) at maximum speed, deftly handling high density liquids.
Specifications at a Glance
Layout: End suction, top (tangential) discharge, back pull-out design
Impeller: Semi-open design with pumping vanes and recirculation holes
Frame: Overhung shaft, with two piece frame
Sizes: 6×4‑19, 8×6‑19, 10×8‑19
Seal Options: DryLock® 2 with Opti-Expeller; Single or Double mechanical seals

Download this post