Last year, Wilfley upgraded a legacy AG chemical pump with a new A9 heavy duty chemical pump in a very demanding nitric acid application. Due to the overwhelming success of the upgrade, the customer is now looking to replace all of the remaining AG pumps throughout their plant.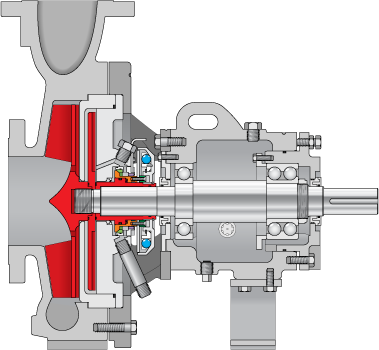 Wilfley A9 Chemical Pump
The AG pump was originally installed in 1976 and was constructed out of Alloy 20. Since installation, the pump case has had to be replaced numerous times due to minor leaks that would develop near the discharge. The pump had also developed a minor leak at shutdown, due to the legacy static seal used in the AG.
The Wilfley Engineering team carried out a formal review of the pumping application before deciding that a new A9 pump constructed in CD4MCuN with the proven DryLock® 2 static seal would solve both of the previously mentioned problems. They also ensured that the pump was configured specifically to handle the highly corrosive nitric acid, which included special material combinations for the o-rings and seal faces as well as a special paint process. Wilfley's expertise in pumping harsh chemicals definitely paid off because the pump has been running successfully without any issues since it was installed in November last year.
This pump is used to take nitric acid from the plant where it is made to a reactor where it is mixed with ammonia to create ammonium nitrate. Without this pump there is no final product. Since this is such a critical service, most plants have two pumps installed so that there is a backup ready to go.
This successful upgrade really emphasizes our dedication and expertise in providing the best possible solutions for our customers. Contact your local Wilfley representative today to learn more about how we can help tackle your toughest pumping applications.
EVERY PUMP MATTERS.

Download the Ammonium Nitrate Market Bulletin

Download this post